Surveying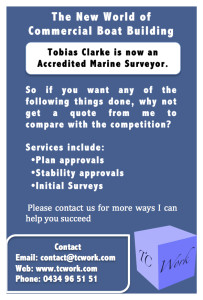 Since January 1st 2015 the Australian Maritime Safety Authority (AMSA) has opened the door to private surveyors Australia wide being able to compete on a level playing field with state employed surveyors, normally working for the Department of Transport.
So what does that mean to the commercial boat builders and operators?
It means  that instead of having to contact the Department of Transport you can now get quotes from any accredited marine surveyors that AMSA has approved (link here)
So why not give me  a call for any of the following items and I promise to give you a competitive quote.
Initial survey – plan approval
Initial survey – stability approval
Initial survey – loadline – assignment
Initial survey – construction or alteration – hull, deck and superstructure
Initial survey – construction or alteration – machinery
Initial survey – construction or alteration – loadline conditions and markings
Initial survey – construction or alteration – equipment
Initial survey – construction or alteration – commissioning
Periodic survey – loadline
Survey of safety equipment