Biography
Engineering Biography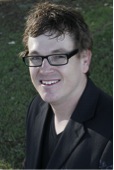 After completing a Bachelor of Engineering (Naval Architecture) from the Australian Maritime College I first worked as a Marine Surveyor in Darwin (Northern Territory) dealing with the survey requirements for small commercial vessels under the USL.  During this time I had to work with the rules and regulations in plan approval, fire protection, stability, build quality and other areas of commercial vessel safety. This work has allowed me to gain an advantage when I now need to deal with these survey authorities from the other side of the fence.
After leaving Darwin in 2005 I moved to Austal Ships to work with the Armidale Class Patrol Boats that for the Royal Australian Navy.  In this time I worked with production making sure that the construction drawing had sufficient and clear information to allow production to build uniform and consistent vessels.  Also I worked with both Class (DNV) and the client to make sure that they where happy with the final product and that the Class sea trials and other naval architecture trials where completed satisfactorily.  This allowed me to gain further knowledge in structural design, stability rules and regulations, conducting sea trails, and further increasing my ability to work with different authorities.  As well as working on the Armidale Class Patrol Boats I worked on other vessels that Austal were constructing at the time.
In 2007 a position came up in the Research & Development Department of Austal Ships which I was successful in obtaining and in the R&D department we where responsible in developing the future direction of the hulls forms for Austal Ships.  During this time I worked extensively in hull optimization, designing the ride control systems that would be present onboard the vessels as well as conducting sea trials to validate our predictive estimates in speed and sea keeping.  During this time I conducted sea trials with private vessels, the Swedish Navy, the American Navy, as well as conducting training courses for the Swedish Navy.
To undertake all this work, we developed extensive in house software; both in MATLAB and Visual Basic to allow us to semi automate much of the data analysis that was required.  During this time we also started to use CFD (CD Adapco) to increase our accuracy in fluid and gas flow.  We also used other commercial and in-house software for speed and motion prediction.  An important part of this work was to create careful documentation to allow others to follow your work practices to be able to check your work as well as for others to recreate the results for future vessels with the software that had been developed.
In 2011 I moved to a small construction company, called Polyline Industries, which where building some small vessels with HDPE (High Density Polyethylene) as well as many other items for mining companies throughout Australia.  I came in as the only Engineer and took on the responsibilities to make sure production was on track to hand over projects onetime and within budget, designing new constructions, creating a drawing database of existing products, working with potential clients to facilitate their requirements, as well as generating costing and budgets for current and future builds.  This time allowed me to gain knowledge in other construction materials, as well as the roles and responsibilities of being a manager.
In the middle of 2012 until the end of 2013 I lived Rwanda in central Africa with my family to undertake volunteer work with an African Non-Government Organization (NGO) called African Enterprises (www.aeerwanda.rw) to help them with their communication skills as well as working a financially turning around a guesthouse that they where running.
In 2012 I also started TC Designs (now called TC Work) as a registered company to provide engineering solutions, especially in the Naval Architect area, and have already gained multiple clients.
In 2014 I started working as a contractor for the WA Department of Transport as a New Construction Surveyor.  In this role I have gained knowledge and skills in the NSCV and how to best deliver solutions under this new national system.
At the end of 2015 the contact with the WA Department of Transport finished and this has allowed me to focus my attention on the TC Work.
One of my hobbies that I enjoy is taking photographs, and some of these can be found here.
To download a copy of my latest CV, please click here.